Our Meal Programs ensure that the 1,300+ unhoused families and individuals in our programs have access to healthy, fresh, and nutritious meals every single day.
Help provide fresh and nutritious food to build a foundation for health and wellness.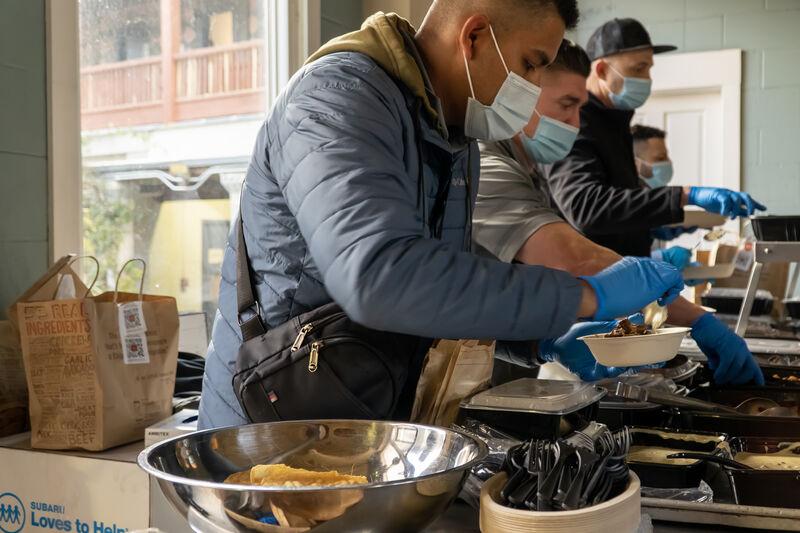 Volunteer at a LifeMoves shelter to provide and serve meals in-person or even just provide and drop-off meals. Our Meals Program is a perfect opportunity for you and your star-filled team to make a visible impact.
You can sign-up for meal service, check out our nutrition policy, and review the USDA's Food Safety guidelines via the buttons below. Check out our quick LifeMoves shelter directory (also below) to get info on the number of meals needed, days available for meal service, and more for each shelter that's a part of our Meals Program.
Meal Service Across LifeMoves Shelters
Important Update Regarding Meal Service
*As of February 2023
In-person meal service volunteering will resume across our Santa Clara County and San Mateo County shelters starting in October 2022. Please note that COVID safety protocols are still in place across all LifeMoves shelters.
As LifeMoves returns to in-person meal service, we ask that all volunteers keep in consideration the following guidelines and policies:
In-person meal service is not required.

If you (and your team) are not yet ready to resume in-person volunteering, you can still just provide and drop-off prepared or catered meals.

Only groups of 8-10 volunteers are allowed per meal service.
If you (and your team) are planning to resume in-person meal service, please plan on following the new sign-in process.

More information about the sign-in process will be included in the confirmation email and reminder email you'll receive after you sign-up.

Confirm the COVID vaccination status of your team members prior to your meal service.
*Important Note*
If any of the below conditions apply to you, we ask that you please cancel your meal drop-off:
You are feeling unwell in any capacity
You have been in recent contact with a person diagnosed with COVID-19
You have recently traveled outside of the US to countries experiencing an outbreak of COVID-19
We recognize that the Coronavirus poses a risk to our entire community. We are regularly evaluating this evolving situation and will continue to work with medical experts, public health officials, and local government to ensure we are protecting our staff, clients, and community.
Thanks for staying in touch with LifeMoves!
By joining our list, you agree to receive informative emails and mailings about LifeMoves.