Above: Guadalupe Emergency Interim Housing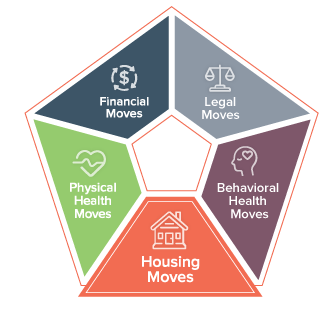 Our core components provide people with support they need to achieve their goals in the different areas of their lives.
LifeMoves helps our clients along pathways that move them out of homelessness by meeting them where they are and helping to rebuild their foundations for long-term stability.
When they arrive at LifeMoves, clients start their path with a safe and dignified place to rest, restore, and reimagine their future. They then receive individually tailored support services to address their different needs and goals. These services are based on five interconnected components. These components represent fundamental features of a secure life needed by each client given their individual circumstances.
Everyone has some skills and abilities that they can use to advance their life. Our dedicated team collaborates with our clients to help them identify and leverage those abilities to address their challenges, build a plan, and secure the resources they need to permanently exit interim supportive housing.
People throughout Silicon Valley who are experiencing homelessness can get help at ~25 sites including interim supportive housing sites with private living spaces and bathrooms, motel conversions, safe RV parking sites, and a long-term supportive housing option. Individuals, couples, families, veterans, seniors and members of the LGBTQ+ community can all find tailored services at our sites.
Given the chance to calm their minds from the uncertainty of being unhoused, people can focus on starting a new chapter in life. With hard work and the unwavering support of our team, they can build their independence and a promising future.
Thanks for staying in touch with LifeMoves!
By joining our list, you agree to receive informative emails and mailings about LifeMoves.